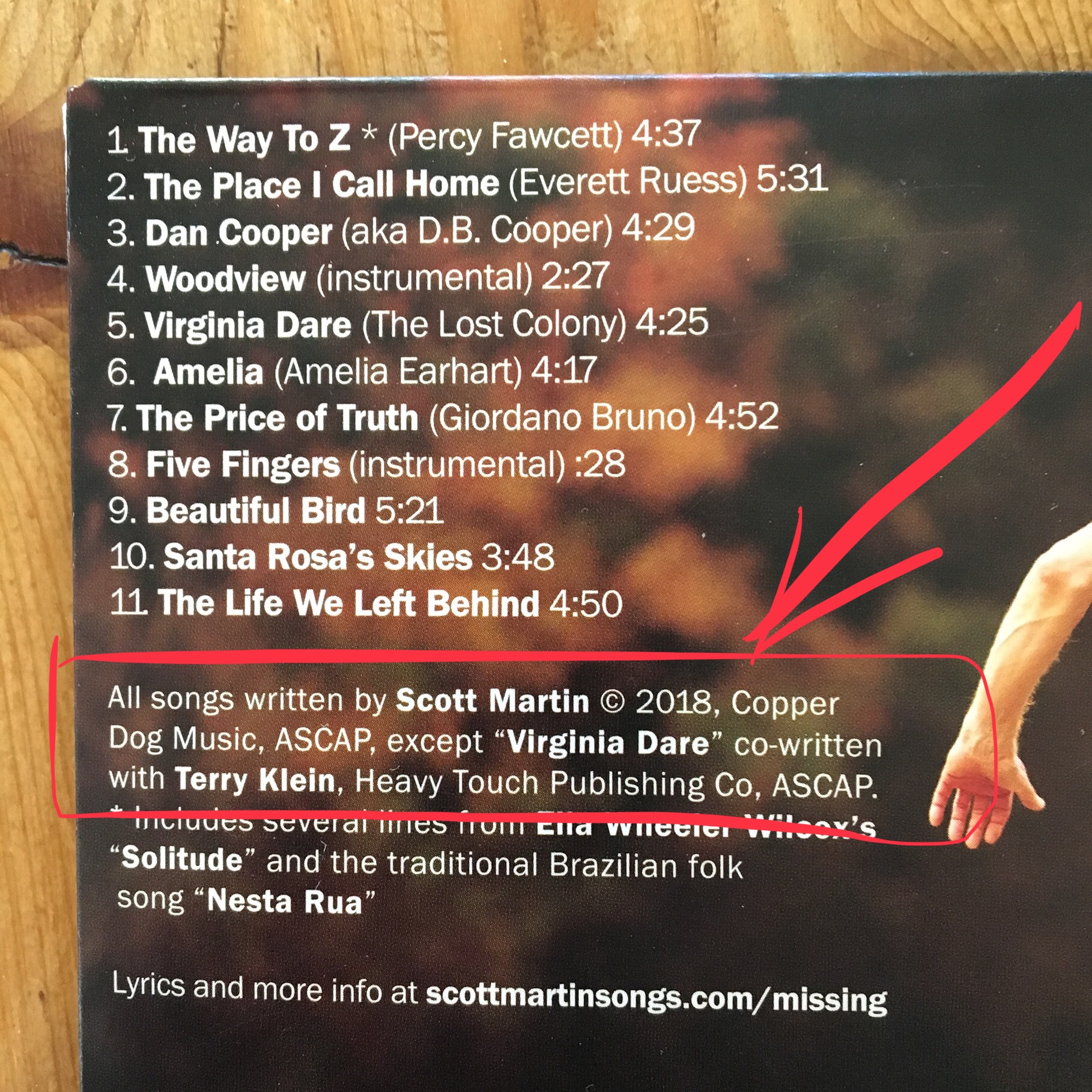 I first started heading down this road a few years ago and I thought I'd be writing songs for other people to sing. But then I heard Jimmy Daddy Davis say that "Nobody's going to hear your songs if you just sit on your couch" and I started to get out and play at open mics. First just here and there, then more and more. I started booking shows. I made a record. And now I call myself a performing songwriter.
When the wonderful Kacy Crowley restarted the Cactus Cafe open mic last year, I went the very first night. I made the list -- not a foregone conclusion -- and I played "Watchman". It was the first song I played at Kacy's magical Strange Brew open mic, a performance that spurred Kacy to start booking me there, and so it just felt right to play at it the Cactus.
That's the night I met Scott Martin. He played his song "The Place I Call Home" about Everett Ruess, one of a number of tunes he'd written about folks who had gone missing. It's a hell of a song and we hit it off immediately. I think we both sensed a kinship, though I'm not sure either of us could quite put a finger on what the source of it was. The following week, Scott and I were both selected as Regional Finalists in the Kerrville New Folk competition and we agreed to drive out to Kerrville together. We realized on that drive that our journeys were kind of similar. We both have kids (his are a little older). We both have amazing, inspiring, incredible spouses. We both played music (Scott more seriously and competently than I), left it behind, and then came back to it. We just connected. And it was easy, the way good friendships are.
On the drive back from Kerrville, Scott and I talked about writing a song together about the Roanoke Colony. Remember them? They were a group of 120 colonists in 17th century North Carolina and they simply disappeared without a trace from the face of the Earth. It's a story that's always fascinated me. We wrote the song over the course of a few sessions and called it "Virginia Dare", who was the first English baby born in the New World. I think we both knew we had something.
And now Scott has put "Virginia Dare" on his beautiful record, Missing, which he made with the great Mark Hallman at The Congress House Studio. Here's a link for you to find out more about Missing.
This is my first songwriting credit on a record other than my own (more are on the way -- credits *and* records of my own) and that's a milestone. We artists are prone to overlooking such happy things in favor of self-flagellation. But when Scott put this disc in my hands a few days ago, I had a moment. I sighed. I felt happy. I felt lucky to work with an artist with Scott's talents and generous spirit. 
You can bask in these good feelings with me, Scott, and Joel McColl on Wednesday, March 14th at New World Deli. We have a show at 7. It's free and its all ages and it's a good way for you to ease into your SXSW experience. And you can congratulate Scott on this excellent record he's made. See you there!